T-NOTE BULL CONTINUES, DEFINES NEW S-T RISK
Overnight's break above yesterday's 130.105 high reaffirms the major bull trend and leaves yesterday's 129.15 low in its wake as the latest smaller-degree corrective low this market is now minimally required to fail below to even defer, let alone threaten the major uptrend and our long-term bullish count. Per such, this 129.15 low becomes our new short-term risk parameter from which shorter-term traders with tighter risk profiles can objectively rebase and manage the risk of a still-advised bullish policy and exposure.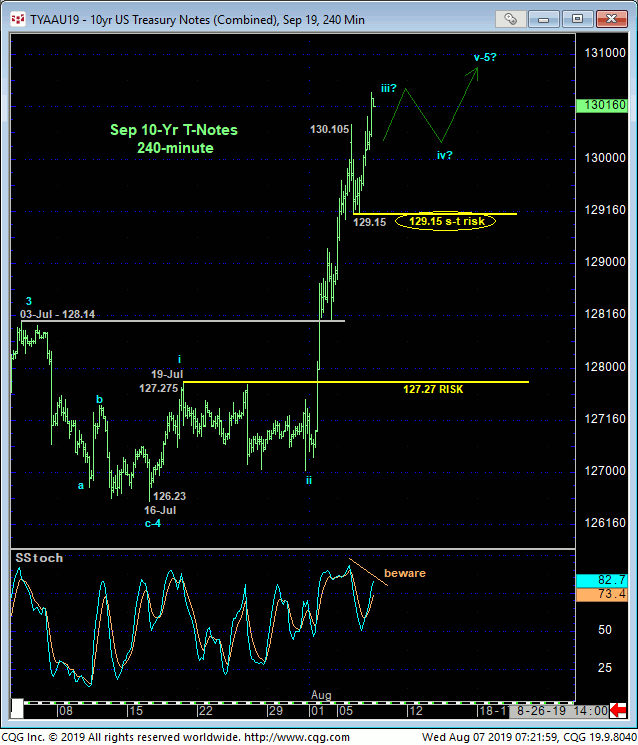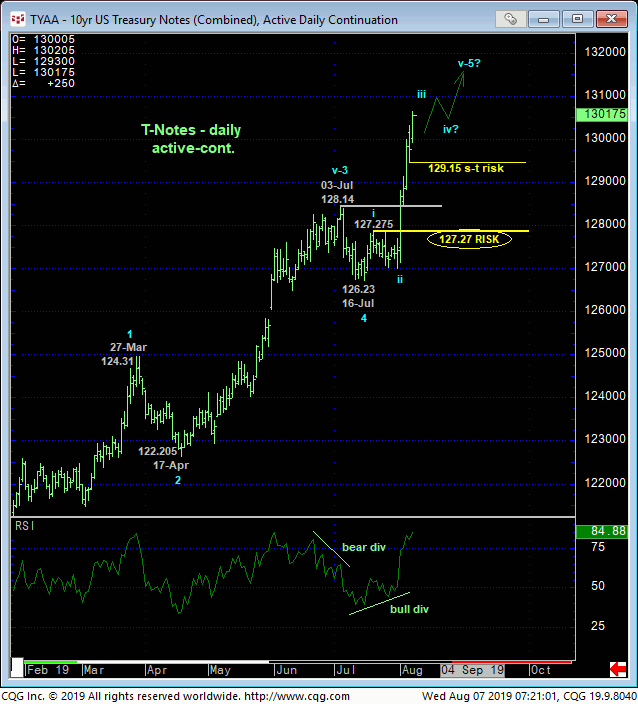 Only a glance at the daily (above) and weekly (below) charts is needed to see that the trend remains up on all scales and should not surprise by its continuance or acceleration. Again, this is precisely the technical condition the German bund market was in early this year before it exploded to break its 2016 all-time high. This T-note market has obliterated even a more «extensive» 61.8% retrace of 2016-18's huge 134.07 — 117.13 decline with, still, no levels of any technical merit above the market shy of Jul'18's 134.07 all-time high. In effect, there is no resistance to this market. The ONLY levels of any technical merit currently lie only BELOW the market in the forms of former resistance-turned-support like the mid-128-handle-area and prior corrective lows like 129.15. And until or unless the market weakens below these levels, the trend is up and is expected to continue and perhaps accelerate.
These issues considered, a full and aggressive bullish policy and exposure remain advised with a failure below 129.15 required for shorter-term traders to step aside and commensurately larger-degree weakness below 127.27 for long-term players to neutralize exposure. In lieu of such weakness, further and possibly accelerated gains remain expected, including a run at new all-time highs above 134.07.