PREVIEWS AND PERSPECTIVES
Sharp drop in global bond yields indicates markets expect rough sledding ahead for the global economy — President Trump's announcement last Thursday of another round of tariffs on Chinese goods triggered new concern about deteriorating global economic conditions. That concern has mainly been displayed by the sharp drop in global bond yields. Global stock markets have also seen weakness, but the stock market declines have been softened by optimism that global central banks are moving fairly quickly to address the anticipated global economic weakness.

Indeed, three central banks just yesterday cut interest rates. New Zealand's central bank on Wednesday cut its benchmark rate by 50 bp to a record low 1.00%, double expectations for a 25 bp cut. The Reserve Bank of India cut its benchmark rate by 35 bp to 5.40%, a bigger reduction than expectations for a 25 bp cut. Also, Thailand's central bank unexpectedly cut its benchmark rate by 25 bp to 1.50%. Australia's central bank left its rates unchanged on Tuesday, but the consensus is that the Philippines central bank today will cut rates.

Meanwhile, the ECB is expected to cut rates by 10 bp at its next meeting in September and likely restart its QE program. The 10-year JGB yield is trading at -0.19%, just above the -0.20% lower limit of the BOJ's JGB target of zero with a range of +/- 0.20%.

The Fed's -25 bp rate cut to 2.00%/2.25% last Wednesday paved the way for rate cuts by other countries. The Fed's rate cut meant that other countries had some room to cut their rates without causing undue weakness in their currencies. The market is expecting another 109 bp of Fed rate cuts through the end of 2020 (i.e., 4.4 more rate cuts), which would provide even more room for rate cuts overseas.

The synchronous drop in global bond yields signals that the markets are anticipating a drop in the global economy as a whole, as well as an even softer tone for the global inflation outlook. The U.S. 10-year T-note yield on Wednesday fell to a new 2-3/4 year low of 1.593% before rebounding higher to close the day +3.2 bp at 1.734%. Germany's 10-year bund yield on Wednesday fell to a new record low of -0.61%. The 10-year UK gilt yield on Wednesday fell to a record low of 0.49%. China's 10-year bond yield on Tuesday fell to a new 2-3/4 year low of 3.03%.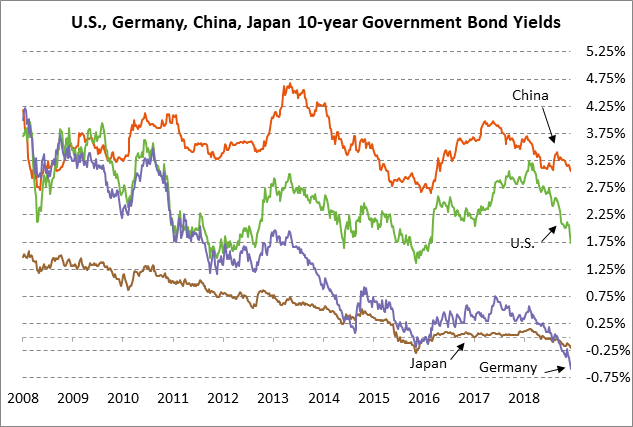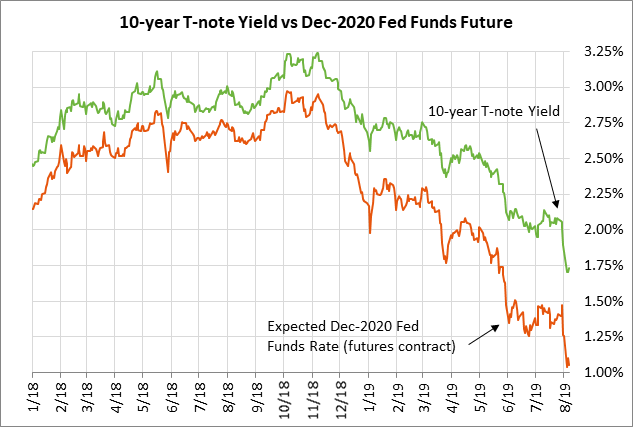 Yuan's new 11-1/4 low suggests the decline will continue — The Chinese yuan on Wednesday fell to a new 11-1/4 year low of 7.0676 yuan/USD and closed the day down -0.58% at 7.0602 yuan/USD. The yuan has now fallen sharply by -2.6% since President Trump last Thursday surprised the markets by announcing a 10% tariff on another $300 billion of Chinese goods effective Sep 1.

The decline in the yuan has been driven largely by market forces since the new U.S. tariff is bearish for the Chinese economy and Chinese interest rate differentials, and thus for the Chinese yuan as well. However, there is no doubt that Chinese authorities have allowed the depreciation to occur with implicit approval.

With little chance of a near-term settlement of the US/Chinese trade war, China has no real choice but to allow its currency to depreciate in order to provide a safety-valve for is exporters and its economy, thus softening the impact of the U.S. tariffs.

The depreciation of a currency is typically bullish for a country's stock market due to enhanced export prospects and the increased value of overseas corporate earnings. However, China faces the unique problem that a weak currency can also cause a run on domestic stocks and bonds as Chinese investors sell their yuan-denominated holdings in order to move their cash overseas.

Indeed, China saw a massive downward spiral of the yuan and stocks in 2015 due to capital flight. China has since tightened capital controls and made it more difficult for Chinese nationals to move money out of the country, which is supportive for the yuan. However, Chinese authorities know they must allow the yuan to decline slowly to avoid another bout of panicky capital flight.

The markets are waiting to see how far Chinese authorities will go in allowing the yuan to depreciate. Further depreciation is clearly bearish for Chinese and global stocks due to the possibility of another panic such as the one seen in 2015.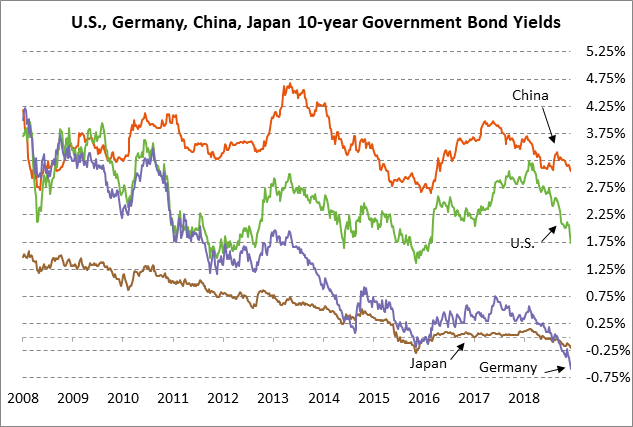 30-year T-bond auction to yield near 2.27% — The Treasury today will sell $19 billion of new 30-year T-bonds, concluding this week's $84 billion refunding operation. Today's 30-year T-bond yield was trading at 2.27% in when-issued trading late Wednesday. Yesterday's 10-year T-note auction saw poor demand, which contributed to the afternoon sell-off in T-note prices, along with the upward rebound in the U.S. stock market.

The benchmark 30-year T-bond yield on Wednesday fell to a new 3-year low of 2.122% before rebounding higher to close the day +1.9 bp at 2.252%. The 30-year bond on Wednesday's low was only 3.4 bp above the record low of 2.088% posted in July 2016.

The 12-auction averages for the 30-year T-bond are as follows: 2.25 bid cover ratio, $6 million in non-competitive bids to mostly retail investors, 5.2 bp tail to the median yield, 40.1 bp tail to the low yield, and 47% taken at the high yield. The 30-year is slightly below average in popularity among foreign investors and central banks. Indirect bidders have taken an average of 59.8% of the last twelve 30-year T-bond auctions, which is slightly below the median of 60.1% for all recent Treasury coupon auctions.