PREVIEWS AND PERSPECTIVES FOR WEDNESDAY, AUG 7
Kudlow says U.S. still expects early-Sep trade talks but China may need another cooling-off period — The markets are waiting to see if China will announce any further retaliatory moves in response to President Trump's announcement last Thursday of a 10% tariff on another $300 billion of Chinese goods effective Sep 1. China may wait to announce further retaliation until Mr. Trump actually implements the new tariffs on Sep 1.

So far, China has not announced much retaliation. China on Monday shut down purchases of U.S. farm products and allowed the yuan to fall through 7 yuan/USD. However, China has not yet announced other moves such as new tariffs on U.S. products or the blacklisting of U.S. companies such as FedEx with its new unreliable entity list.

The big question is whether top Chinese officials will come to Washington in early September for the round of talks that were scheduled before President Trump last Thursday fired off his new salvo of tariffs. If Mr. Trump goes ahead with the Sep 1 tariffs, it is difficult to believe that Chinese officials would show up in Washington a few days later and make themselves vulnerable to any new attack from the Trump administration. It seems more likely that China will need another cooling-off period of at least 1-2 months.

The two sides had little to talk about at their meeting early last week in Shanghai, which broke up early. There is even less to talk about now that President Trump has taken the trade war to the next level. Mr. Trump is expecting China is make a large amount of U.S. farm purchases simply as a pre-condition for talks. Now that China has completely shut down U.S. farm purchases, there appears to be little common ground for any new talks.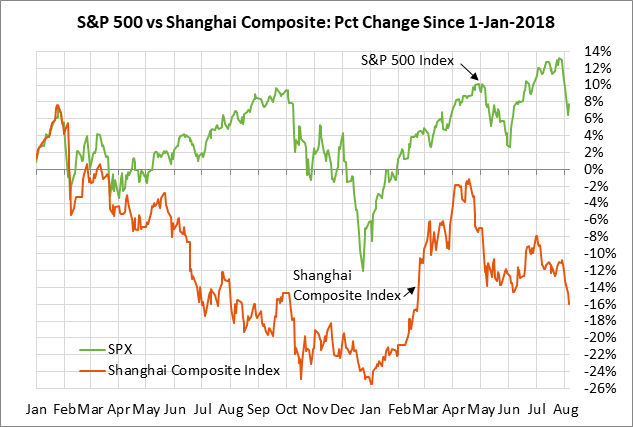 China signals a controlled yuan decline — In some good news for the markets, the PBOC early Tuesday set a stronger-than-expected yuan fix and also announced a bill sale for August 14, which will drain liquidity and support the yuan.

Tuesday's move suggested that Chinese authorities do not want a sharp depreciation of the yuan, which is good news since no one wants a replay of 2015 when a ham-fisted yuan depreciation move by Chinese authorities caused heavy capital flight and a plunge in Chinese stocks. The markets can deal with a slow and controlled depreciation of the yuan, but not a sudden depreciation that causes panic and capital flight. Global stocks were able to mildly recover on Monday after fears abated about China's yuan depreciation move.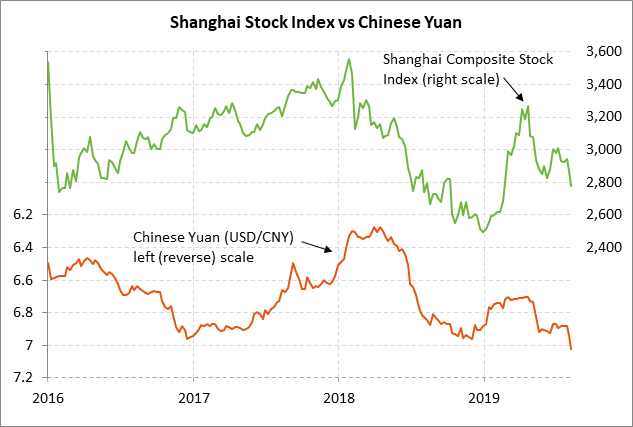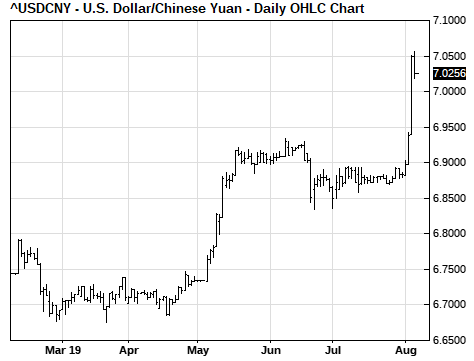 10-year T-note has erased its post-election yield surge — The 10-year T-note yield has fallen so sharply this year that it is now at levels last seen in October 2016, just before the November 2016 election when Republicans swept Washington. The T-note yield surged after the November 2016 election due to expectations for the Republicans to pass a massive tax cut bill, which they finally ended up doing in late 2017.

The 10-year T-note yield saw its 8-1/2 year peak of 3.26% in October 2018 due to the strong economy that resulted from the tax cut and the Fed's aggressive rate-hike regime. The Fed in December 2018 implemented its last rate hike to 2.25-2.50%.

The 10-year T-note during 2019 then plunged to the current 2-3/4 year low of 1.67% mainly because of trade tensions that undercut global economic growth and convinced the Fed to end its rate-hike regime and start cutting interest rates. The Fed last week implemented its first rate cut of the cycle.

The 10-year T-note yield has also dropped sharply due to the plunge in inflation expectations. The 10-year breakeven inflation expectations rate has plunged from last year's 5-year high of 2.21% to the current 2-3/4 year low of 1.62%, where it is far below the Fed's +2.0% inflation target. The decline in inflation expectations has been driven by weak world economic growth and the sharp decline in commodity prices seen since late 2018.

T-note yields have also dropped sharply in sympathy with bond yields in the rest of the developed world. Germany's 10-year bund yield on Tuesday fell to a new record low of -0.54% and the 10-year UK gilt yield on Monday fell to a record low of 0.51%. The current Japanese 10-year JGB yield of -0.18% is just above the -0.20% lower limit of the BOJ's target range. China's 10-year bond yield this week fell to a new 2-3/4 year low of 3.03%.

U.S. T-note prices have also been boosted by safe-haven demand driven by market angst about (1) trade tensions, (2) concern about China's massive debt levels and slowing economy, (3) the increasing possibility of a no-deal Brexit on October 31, and (4) geopolitical concerns regarding Iran, North Korea, and Venezuela.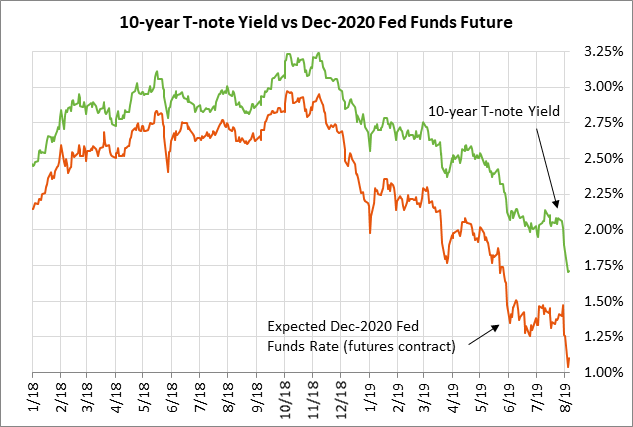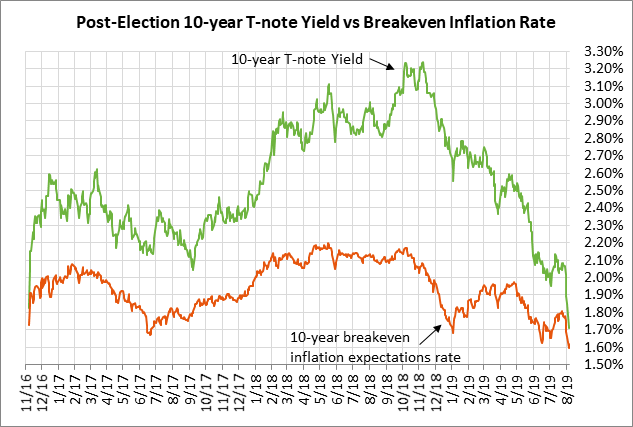 10-year T-note auction to yield near 1.70% — The Treasury today will sell $27 billion of new 10-year T-notes. The size of today's 10-year refunding issue is unchanged from the last three quarterly refunding auctions. The Treasury will conclude this week's $84 billion refunding operation package by selling $19 billion of 30-year bonds on Thursday. Today's 10-year T-note yield was trading at 1.70% in when-issued trading late Tuesday.

The 12-auction averages for the 10-year T-note are as follows: 2.46 bid cover ratio, $19 million in non-competitive bids to mostly retail investors, 4.3 bp tail to the median yield, 21.7 bp tail to the low yield, and 45% taken at the high yield. The 10-year is fourth most popular security among foreign investors and central banks behind the 5-year, 10-year and 30-year TIPS auctions. Indirect bidders, a proxy for foreign buyers, have taken an average of 63.4% of the last twelve 10-year T-note auctions, which is well above the median of 60.1% for all recent Treasury coupon auctions.