PREVIEWS AND PERSPECTIVES FOR TUESDAY, JULY 30
Markets key on Fed's post-cut stance — A -25 bp rate cut is a foregone conclusion from the 2-day FOMC meeting that begins today. The market is discounting a 100% chance of a -25 bp rate cut and only a 20% chance of a -50 bp rate cut today.

The main question is the Fed's stance on further rate cuts after this week's rate cut. Will the Fed signal that this week's rate cut is the first in a series of rate cuts in coming months, or will the Fed indicate that this week's rate cut is a one-off and that any further rate cuts will be data-dependent?

The answer will mainly come from Fed Chair Powell's post-meeting press conference and whether he stresses the downside risks for the U.S. economy, or whether he stresses that the U.S. economy is doing relatively well and the Fed is just taking out a small insurance policy in response to headwinds from the trade war and slower growth overseas. Mr. Powell will not want to spark a bearish tantrum in the stock and bond markets by indicating a one-off rate cut, so he will probably try to have it both ways by indicating that the Fed will likely lean towards some further easing in coming months without making any promises.

The Fed-dot forecast is for only one rate cut through 2020, which is far less dovish than the market's forecast for four rate cuts through the end of 2020, i.e., 2.5 rate cuts in 2019 and 1.5 rate cuts in 2020. Specifically, the market is forecasting a -63.5 bp decline in the funds rate by December 2019 and a further -37 bp rate cut in 2020, according to the federal funds futures market (relative to the current effective funds rate of 2.40%).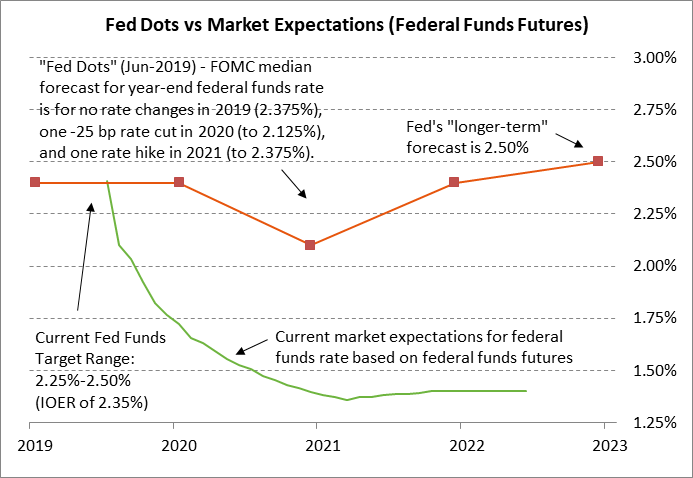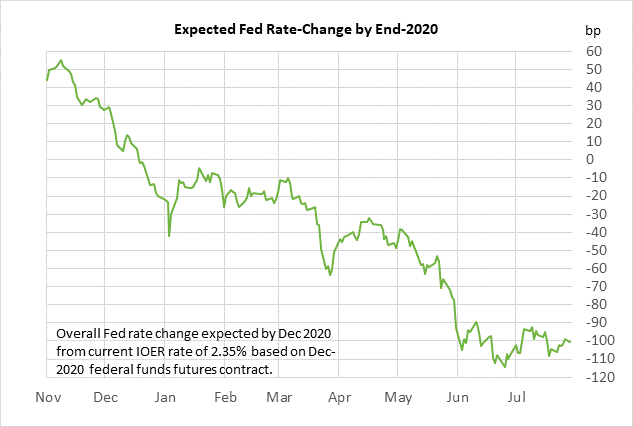 Markets wait to see if US/Chinese talks get back on track — The U.S. and China will finally resume their face-to-face trade talks after a 2-month hiatus with meetings today and Wednesday in Shanghai. The question for the markets is whether the U.S. and China reach enough of an understanding on ag purchases and Huawei to even begin serious negotiations on the structural issues that sank the talks in May.

China has since dug in on the talks with red lines of (1) no post-agreement tariffs, (2) little or no legislation to implement the agreement, and (3) reasonably-sized purchases of U.S. products. The question is whether President Trump will continue to go full bore for the Chinese concessions that his most hawkish trade advisors want, or whether he will settle for whatever deal he can get in order to get Chinese ag purchases back on track in time for next year's presidential campaign season.

Sterling falls to new 2-1/4 year low as no-deal Brexit becomes «central scenario» — GBP/USD on Monday fell to a new 2-1/4 year low as a no-deal Brexit becomes increasingly likely despite vehement opposition from some in Parliament. Prime Minister Johnson and his ministers in recent days have made clear that they are serious about going through with a no-deal Brexit if the EU will not scrap the Irish border backstop in the withdrawal agreement. PM Johnson's spokeswoman said that Mr. Johnson has no plans to even meet in person with EU leaders, such as Merkel or Macron, if he is just going to be told that the EU will not reopen the withdrawal agreement. Instead, Mr. Johnson formed a war cabinet to meet every day to ensure that the UK can absorb a no-deal Brexit on October 31 with minimized disruptions.

U.S. core deflator expected to edge higher but remain below the Fed's inflation target — The market consensus is for today's June PCE deflator to be unchanged from May's +1.5% y/y and for the June core deflator to rise slightly to +1.7% y/y from May's +1.6%.

Today's expected June core PCE deflator of +1.7% y/y would still be comfortably below the Fed's +2.0% inflation target, giving the Fed some room to position this week's expected rate cut as a response to below-target inflation. A dovish view of inflation is supported by the fact that the 10-year breakeven inflation expectations rate is currently at 1.77%, also below the Fed's +2.0% inflation target. However, inflation is only mildly below the Fed's target and the inflation outlook in our view is not screaming out for a big string of rate cuts.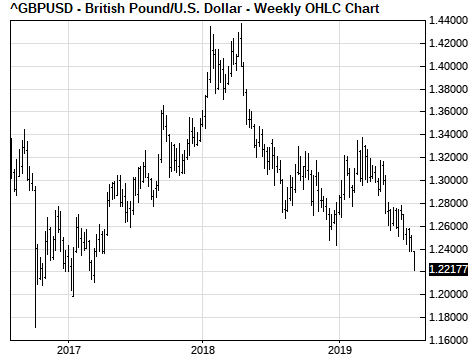 U.S. home price gains are slowing — The consensus is for today's May S&P CoreLogic composite-20 home price index to show an increase of +0.2% m/m and +2.4% y/y following April's report of unchanged m/m and +2.5% y/y. The surge in metropolitan home prices seen in recent years is sagging a bit as the Composite-20 index in April eased to a 6-3/4 year low of +2.5% y/y.

The sharp drop in mortgage rates seen so far this year is a supportive factor for home sales and home prices. However, home prices may nevertheless be running into some resistance after having soared by +57% from the housing bust low. Last week's FHFA U.S. home price index for May was weak at +0.1% m/m, which supported expectations for a lackluster Composite-20 report today.

U.S. consumer confidence expected to partially recover after June's sharp drop — The market consensus is for today's July Conference Board U.S. consumer confidence index to show a +3.5 point increase to 125.0, recovering part of June's sharp -9.8 point drop to 121.5. The University of Michigan's U.S. consumer sentiment index showed a gain of only +0.2 point in early July, which did not bode well for today's Conference Board report. U.S. consumer confidence remains generally strong due to the strong U.S. labor market and recent record highs in the stock market. However, there are still consumer concerns including, the slowing U.S. economy, the U.S. trade war, and Washington political strife.