Previews and Perspectives for Tuesday, Aug 6
US/Chinese trade war is quickly moving towards maximum pressure — Global investors on Monday were surprised by the extent of China's in-your-face retaliation with its move to halt all purchases of U.S. farm products and cause the yuan to fall beyond the psychological level of 7 yuan/USD to a new 11-year low. Moreover, there is likely to be more China's retaliation soon, particularly if Mr. Trump goes ahead with the 10% tariff on another $300 billion of Chinese goods on Sep 1 that he announced last Thursday.

China's counterpunch was unmistakably directed at Mr. Trump's sore points of currency manipulation and U.S. farm purchases. China's counterpunch suggested that the chance might already be dead for a US/Chinese trade deal during 2019/20 and that the tit-for-tat punishment will simply get worse going into next year's presidential campaign season. China has perhaps concluded that there is no deal to be had with the Trump administration without an unending and embarrassing string of concessions, and that they might as well wait to see if Mr. Trump wins reelection in the November 2020 election.

Meanwhile, President Trump seems to be pursuing his preferred strategy of maximum pressure where he is quickly progressing to high, across-the-board tariffs and other restrictions on China to see if he can force a deal before next year's campaign season. Mr. Trump may be hoping for a bailout from the Fed from lower interest rates, but yesterday's plunge in the U.S. stock market suggests that strategy is already too late.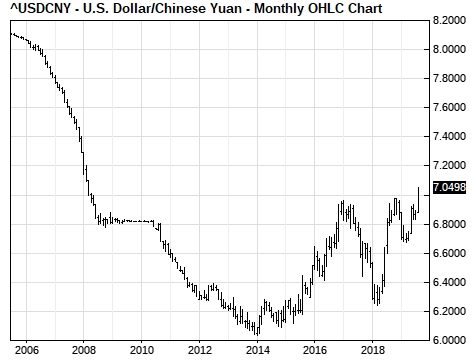 China's currency-depreciation strategy risks capital flight and Treasury intervention — The U.S. Treasury after Monday's close responded quickly to China's depreciation move on Monday by officially labeling China as a currency manipulator. The Treasury's designation sets the stage for the Trump administration to retaliate for its claim that China is manipulating its currency.

The Treasury might even use the claim of Chinese currency manipulation as a pretext for direct intervention in the FX markets by selling dollars against the yuan. That would result in an all-out currency war. If the U.S. Treasury, possibly in cooperation with the Fed, intervenes against the dollar, foreign investors could get cold feet about holding dollar-denominated investments that are quickly depreciating due to a drop in the dollar. That, in turn, could cause a big drop in U.S. stock prices and weakness in bond prices.

In any case, China has already started down a slippery slope by sanctioning Monday's plunge in the yuan past 7 yuan/USD. The depreciation in the yuan can be justified on a fundamental basis since President Trump's announcement last Thursday of new tariffs on China was negative for China's economy and negative for China's interest rate differentials, and was therefore bearish for China's currency.

However, Chinese authorities must keep the slide under control and cannot allow panic to break out since that would likely produce a plunge in Chinese stocks, such the combined yuan/stock plunge that occurred in 2015. Any further sell-off in China's yuan and stock market would also have negative consequences for the emerging markets as a whole.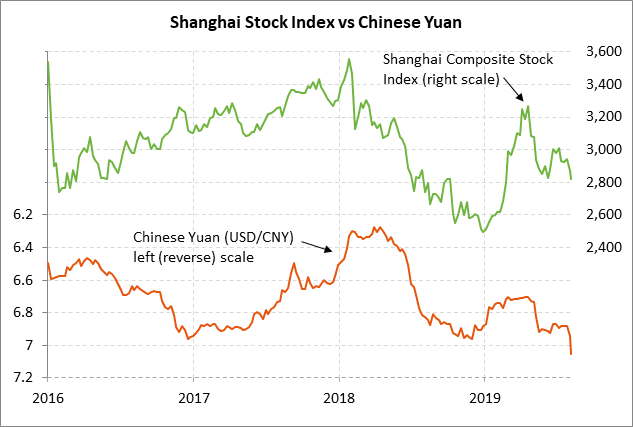 Markets on Monday boost Fed rate-hike expectations sharply by another 22 bp as trade war worsens — In response to Monday's escalation of the US/Chinese trade war and the plunge in global stocks, the markets responded by factoring in an additional 21.5 bp of Fed easing by the end of 2020. Since President Trump last Thursday announced a new 10% tariff on another $300 billion of Chinese goods, the Dec 2020 federal funds rate contract has fallen sharply (on a yield basis) to 1.04% from 1.47% last Wednesday, thus factoring in an additional 43 bp of easing or almost two more rate cuts.

The markets are now discounting 60.5 bp of easing by the end of 2019 (i.e., 2.4 cuts), and a further 49.5 bp of rate cuts in 2020 (2.0 cuts), producing expectations for a grand total of 4.4 cuts during 2019-20. The markets are now discounting a 100% chance of a rate cut at the next FOMC meeting on Sep 17-18 and a 92% chance of another rate cut at the following FOMC meeting on Oct 29-30.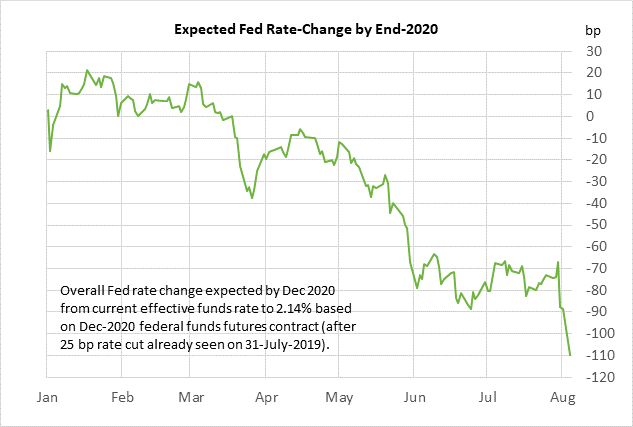 3-year T-note yield falls to 2-year low ahead of today's auction — The Treasury today will sell $38 billion of 3-year T-notes. The Treasury will then continue this week's $84 billion refunding operation package by selling $27 billion of 10-year T-notes on Wednesday and $19 billion of 30-year bonds on Thursday. The 10-year and 30-year auctions will be new issues as opposed to reopenings of existing issues.

Today's 3-year T-note issue was trading at 1.52% in when-issued trading late yesterday afternoon. The 3-year T-note yield yesterday fell to a new 2-year low of 1.52%, which could dampen demand for the issue. The 12-auction averages for the 3-year T-note are as follows: 2.55 bid cover ratio, $83 million in non-competitive bids to mostly retail investors, 3.0 bp tail to the median yield, 17.8 bp tail to the low yield, and 55% taken at the high yield. The 3-year is the second least popular coupon security among foreign investors and central banks. Indirect bidders, a proxy for foreign buyers, have taken an average of only 46.5% of the last twelve 3-year T-note auctions, which is well below the average of 60.1% for all recent Treasury coupon auctions.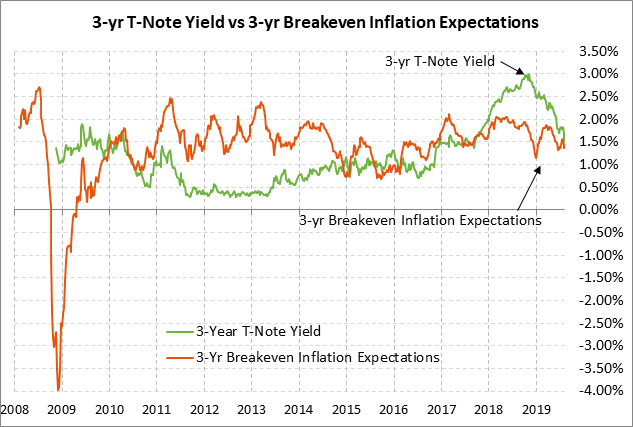 JOLTS job openings expected higher — The consensus is for today's June JOLTS job openings report to increase by +77,000 to 7.400 million, more than reversing May's -49,000 decline to 7.323 million. The JOLTs series remains in strong shape not far below last year's record high of 7.626 million, which is supportive for the job hiring picture.