PREVIEWS AND PERSPECTIVES FOR MONDAY, JULY 29
Weekly global market focus — The U.S. markets this week will focus on (1) market expectations for the FOMC at its meeting on Tues/Wed to cut the funds rate target by -25 bp, (2) the US/Chinese trade talks on Tuesday and Wednesday in Shanghai, (3) the peak Q2 earnings week with reports from 167 of the S&P 500 companies, (4) oil prices and any fresh tensions in the Persian Gulf as Iran may continue targeting oil tankers, and (5) key U.S. economic reports including the ISM manufacturing index on Thursday and the July payroll report on Friday.

The markets will remain on guard for the outside possibility of U.S. intervention against the dollar. White House economic advisor Kudlow last Friday morning told CNBC that the administration earlier in the week decided against intervening in the FX market to weaken the dollar. However, President Trump later in the day pushed back by saying that he never said he wouldn't intervene against the dollar.

U.S. politics will remain in focus this week as the Democratic presidential contenders hold two nights of debates on Tuesday and Wednesday in Detroit. The House last Thursday evening adjourned for its August recess after passing the 2-year budget cap and debt-limit suspension bill. However, the Senate will not adjourn until this Friday and must pass the budget cap/debt ceiling bill this week to ensure that the Treasury does not default when it would otherwise run out of cash in September or October.

In Europe, the focus will remain on Brexit as the markets wait to see if the EU will give any concessions to PM Boris Johnson on the Brexit withdrawal agreement. Mr. Johnson is likely to meet soon with key EU officials and national leaders such as German Chancellor Merkel and French President Macron. The Bank of England at its meeting on Thursday is expected to leave its policy unchanged since the Brexit situation has now turned even more uncertain with PM Johnson threatening a no-deal Brexit on October 31.

The Eurozone Q2 GDP report on Wednesday is expected to weaken to +0.2% q/q and +1.0% y/y from Q1's +0.4% q/q and +1.2% y/y. The Eurozone July CPI on Wednesday is expected to ease slightly to +1.1% headline and +1.0% core from June's report of +1.2% and +1.1%, respectively.

In Asia, the focus will mainly be on the US/Chinese trade talks on Tue/Wed. The Bank of Japan at its Mon/Tue meeting is expected to leave its policy unchanged. China's July manufacturing PMI report on Tuesday night (ET time) is expected to show a small +0.2 point improvement to 49.6 (June unch at 49.4), but the non-manufacturing PMI is expected to fall by -0.2 points to 54.0 (June -0.1 to 54.2).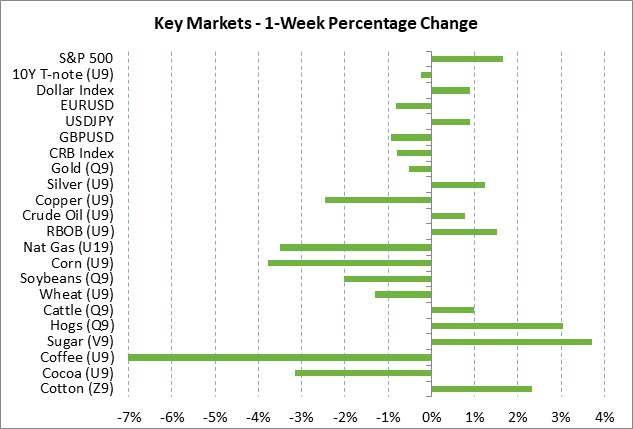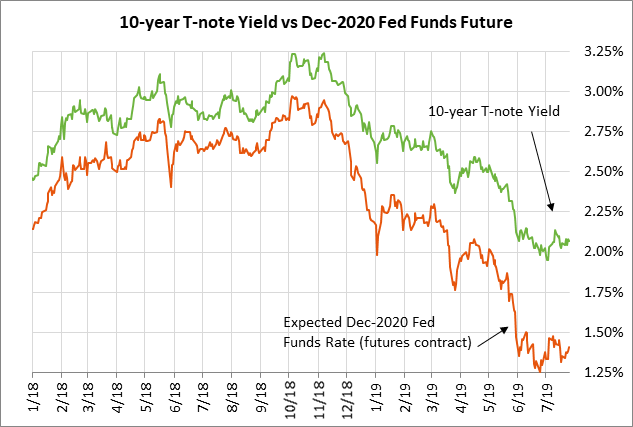 Busy trade week with US/Chinese talks and other trade issues — The US/China will finally resume face-to-face talks after a 2-month hiatus with meetings on Tuesday and Wednesday in Shanghai. USTR Lighthizer and Treasury Secretary Mnuchin will meet with Vice Premier Liu and Commerce Minister Zhong. This week's meetings will be critical as the two sides see whether they can even agree on a starting point for the new talks. The talks broke down in May after President Trump took umbrage at China's refusal to pass extensive legislation to implement an agreement and he went ahead with raising the tariff to 25% from 10% on $200 billion of Chinese goods.

There is an improved climate for this week's talks after Bloomberg reported last week that the Chinese government has waived tariffs on a case-by-case basis so that Chinese companies can buy up to 3 million metric tons of U.S. soybeans and also some U.S. cotton, corn, sorghum, and pork. China is waiting to see if the Trump administration follows through with its promise to grant licenses for U.S. companies to sell chips and other products to Huawei. Separately, China authorities last Friday suggested they may place FedEx of their new «unreliable entity» list.

There will be other trade issues in play this week. The US/EU trade talks are not going well with the EU last week nearly doubling the amount of retaliatory tariffs that it plans to put on U.S. goods if President Trump goes ahead with his threat to slap tariffs on European autos. Also, Mr. Trump last Friday gave his USTR 90 days to investigate France's new 4% digital tax on U.S. and global technology companies and threatened to slap retaliatory tariffs on French wine. Mr. Trump last week also slammed the WTO and called on the WTO to essentially revoke China's preferred trade status as a developing country.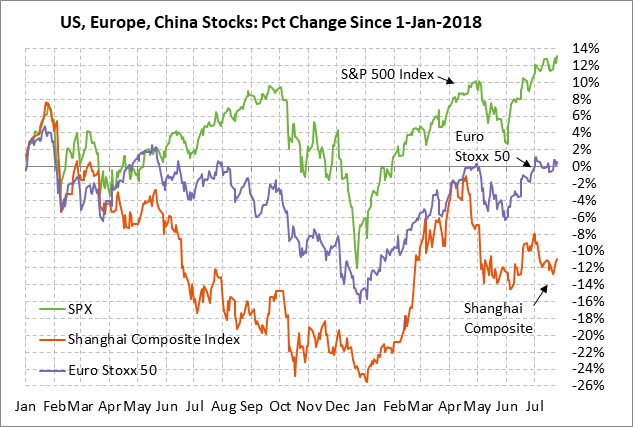 Peak Q2 earnings week — This is the peak week for Q2 earnings with 167 of the S&P 500 companies scheduled to report. Notable reports include Apple on Tuesday; GE on Wednesday; GM on Thursday; and Exxon and Berkshire Hathaway on Friday.

Of the 218 SPX companies that have reported earnings so far, 75.2% have beaten the consensus, above the long-term average of 65% but slightly below the 4-quarter average of 76%, according to Refinitiv. The consensus is for Q2 SPX earnings growth of only +0.5% y/y, which would be the second straight quarter of weak growth after Q1's growth of +1.6%, according to Refinitiv. Looking ahead, the consensus is for continued weak earnings growth of -0.5% in Q3 followed by an improvement to +5.9% in Q4.

On a calendar year basis, the consensus is for earnings growth of only +1.7% in 2019 followed by an improvement to +11.6% in 2020. Earnings growth in 2019 is struggling due to a tough year-on-year comparison after the stellar earnings growth rate of +22.7% in 2018 that was prompted by the massive 2018 tax cut. Earnings in 2019 are also seeing some weakness since the trade war is hurting earnings for a wide variety of different companies.