PREVIEWS AND PERSPECTIVES FOR FRIDAY, SEP 13
US/China may be moving towards a more limited trade agreement — The U.S. and China, apparently realizing that a full trade deal is a long way off, seem to be focusing on a narrower deal. Bloomberg on Thursday reported that Trump administration officials are discussing the possibility of offering China an «interim» trade agreement that would delay and roll back some tariffs in return for IP commitments and ag purchases. Bloomberg said such an agreement would freeze the conflict and avoid the new tariffs that are due to go into effect on Oct 15 and Dec 15 and even roll back the Sep 1 tariff on $110 billion of Chinese goods.

It remains to be seen whether China would agree to any trade deal that doesn't fully eliminate all U.S. penalty tariffs. However, China might be interested in a deal that at least freezes the conflict through 2020 so they can wait to see if Mr. Trump wins reelection in November 2020.

China also seems to be trying to pare back a trade deal. The Wall Street Journal reported on Thursday that China is seeking to separate the trade and national security talks with a view towards at least getting a trade deal done. However, Mr. Trump may not be interested in that course of action since he views trade tariffs as his main sledgehammer on national security issues such as those involved with Huawei.

There has at least been some de-escalation of US/Chinese trade tensions in the past few days. President Trump on Wednesday night announced a delay in the 5 percentage point hike to 30% in the tariff on $250 billion of Chinese goods by two weeks from Oct 1 to Oct 15. That delay will provide some breathing room for the high-level face-to-face talks that are scheduled for early October. Mr. Trump's tariff delay followed China's announcement early Wednesday of tariff exemptions on about $1.7 billion of Chinese goods.

China on Wednesday then said that private Chinese companies are making inquiries into buying U.S. soybeans and pork. Chinese is apparently teasing some ag purchases in an attempt to get the U.S. re-engaged in serious trade talks.

Meanwhile, Chinese Vice Premier Liu on Thursday said that deputy-level Chinese trade officials will travel to Washington next week for meetings with their U.S. counterparts. Those deputy-level meetings will lay the groundwork for the high-level meetings due in Washington in early October.

ECB's multi-pronged stimulus move results in mixed market reaction — The markets were generally pleased with the ECB's stimulus announcement on Thursday. The ECB cut its deposit rate by -10 bp to -0.50%, which was generally in line with market expectations although there were some hopes for a -20 bp cut to -0.60%.

In a bullish surprise, the ECB extended its long-term funding for European banks in its TLTRO program to 3 years from 2 years and effectively cut the intended interest rate on those loans by 10 bp.

Also on the bullish side, the ECB changed its guidance on interest rates by saying that rates will stay at present or lower levels until the inflation outlook «robustly» converges to its goal of just below 2%, foregoing its previous calendar-based guidance of guaranteeing low rates until at least mid-2020.

The ECB restarted its QE program with a monthly purchase amount of 20 billion euros per month, which was smaller than market expectations of about 30 billion euros. However, the good news was that the ECB made the program open-ended, which was more dovish than expectations for a 1-year program. The ECB's open-ended QE program could last substantially longer than a year, particularly since the ECB said that the QE program will continue until shortly before the first rate hike.

The bullish impact from the ECB's stimulus announcement was muted by ECB President Draghi's statement that there is a «low» probability of a Eurozone recession, which suggests that there is also a low probability of further ECB stimulus. The markets were also a bit disappointed that Mr. Draghi said that ECB members did not discuss expanding the pool of securities eligible for the QE program since the current rules suggest that the QE program only has enough room to last less than a year. Mr. Draghi apparently intends to let incoming ECB President Christine Lagarde deal with expanding the QE pool after she takes over on November 1.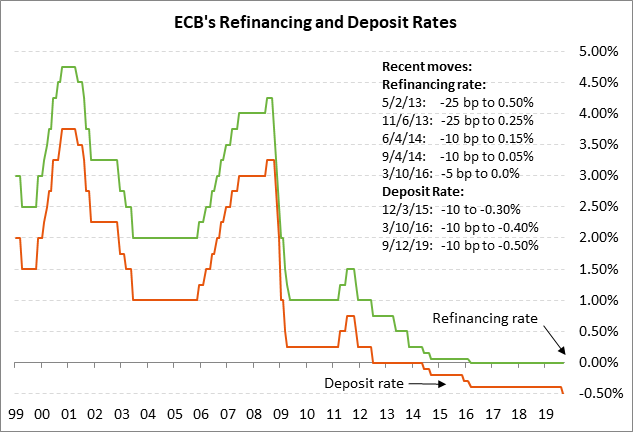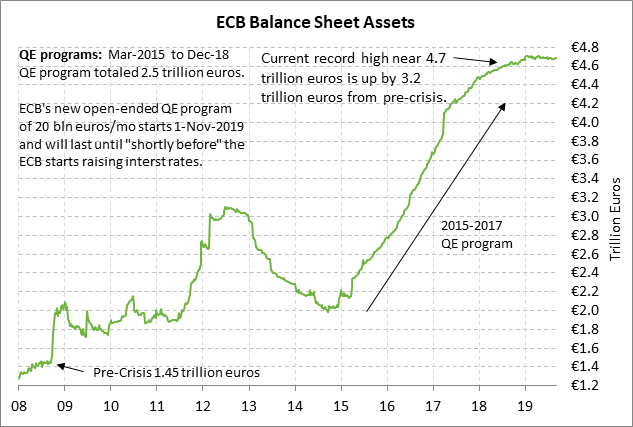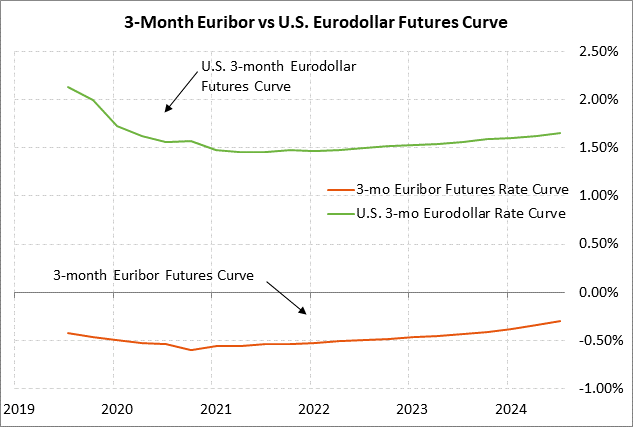 U.S. retail sales and consumer sentiment reports are expected to show a more cautious consumer — The market consensus is for today's Aug retail sales report to show a modest increase of +0.2% and +0.1% ex-autos following July's very strong report of +0.7% and +1.0% ex-autos. The market is expecting retail sales to fall back in August after the relatively strong level of sales seen so far in 2019. U.S. retail sales have been supported in recent months by strong consumer confidence, record highs in the stock market, and the continued rise in home prices.

However, consumers started displaying some caution in August as seen by the fact that the University of Michigan's consumer sentiment index fell sharply by -8.6 points to 89.8. That decline in sentiment was due to President Trump's announcement on Aug 1 of new tariffs on Chinese imports, which sparked a stock market sell-off and increased talk about the possibility of a U.S. recession. Today's preliminary-Sep University of Michigan consumer sentiment index is expected to show only a small +1.0 point rebound to 90.8. The U.S. economy needs consumer spending to remain strong since there is little support elsewhere from business investment or net exports.