PREVIEWS AND PERSPECTIVES FOR FRIDAY, JULY 26
China announces tariff-free purchases of more U.S. farm products ahead of next week's US/Chinese trade talks — Bloomberg on Thursday reported that the Chinese government has waived tariffs for several of its domestic companies to buy U.S. cotton, corn, sorghum, and pork. That followed Wednesday's Bloomberg report that China waived tariffs for five Chinese companies to purchase up to 3 million metric tons of U.S. soybeans.

Those Chinese farm purchases, if completed, will go a long way towards smoothing the way for the US/Chinese trade talks. However, the Trump administration must now reciprocate with the approval of licenses for U.S. companies to sell chips and other products to Huawei, or China is likely to cancel the U.S. ag purchases and slow the talks to a crawl.

U.S. and Chinese officials on Thursday confirmed that the trade talks will resume next Tuesday and Wednesday in Shanghai, with both USTR Lighthizer and Treasury Secretary Mnuchin attending. On the Chinese side, Vice Premier Liu will lead the Chinese delegation but a key player will now be Commerce Minister Zhong, who is considered to be more of a trade hardliner and an enforcer for Communist Party policy.

The markets were a bit more encouraged about the trade talks after Treasury Secretary Mnuchin on Wednesday told reporters that, «My expectation is there'll be a few more meetings before we get a deal done. My expectation is that there'll be a follow-up meeting back here shortly thereafter, assuming things go as we expect them to be.»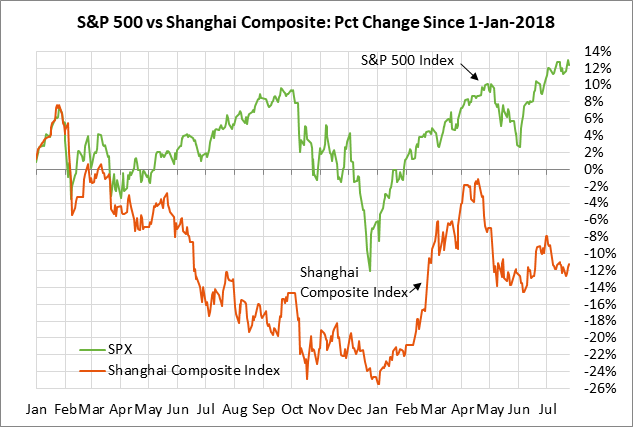 EU quickly rejects PM Johnson's attempt for a rewrite of the Brexit withdrawal agreement — Prime Minister Johnson on Thursday in a speech to Parliament stressed that he has an «absolute commitment» to leave the EU on October 31. He added that the UK must prepare for the possibility of a no-deal Brexit, saying, «In the 98 days that remain to us we must turbo-charge our preparations to make sure that there is as little disruption as possible to our national life.» He said that he will demand that the EU scrap the Irish border backstop altogether and not just put a time limit on it as former Primer Minister tried to do.

Mr. Johnson's aggressive approach met with a quick rejection from the EU. EU Brexit chief negotiator Michel Barnier sent EU diplomats an email saying that Mr. Johnson's demand to scrap the Irish backstop was «unacceptable.»

In his comments on Thursday, Mr. Johnson used language suggesting that he is expecting an election soon, either before or after the October 31 Brexit deadline depending on developments. If the EU won't renegotiate the Irish backstop and if Parliament blocks a no-deal Brexit, then Mr. Johnson might have no choice but to call new elections to try to assemble a new Parliament that would approve a no-deal Brexit. An election might also be forced on Mr. Johnson with a Parliamentary no-confidence vote if Mr. Johnson tries to force a no-deal Brexit.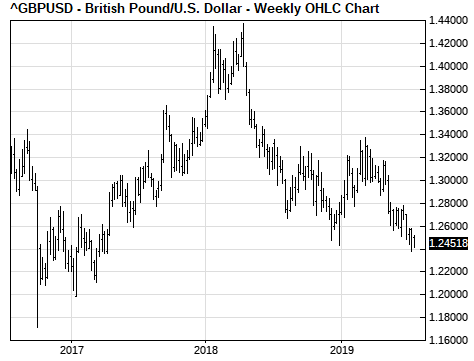 ECB signals rate cut and new QE program soon — The ECB at yesterday's meeting met market expectations by signaling a rate cut at its next meeting in September, although there was some disappointment that the ECB didn't go ahead with that rate cut yesterday. The market is now discounting an 86% chance of a -10 bp rate cut at the next ECB meeting on September 12 and a 94% chance of that rate cut at the following meeting on October 24, which will be ECB President Draghi's last meeting before his term ends on October 31.

The ECB on Thursday changed its guidance to allow for a rate cut by saying that it expects rates «to remain at their present or lower levels at least through the first half of 2020.» The ECB also instructed its staff to work on a tiering system to reduce the damage to bank profits from negative interest rates. The ECB also told its staff to come up with a new QE plan.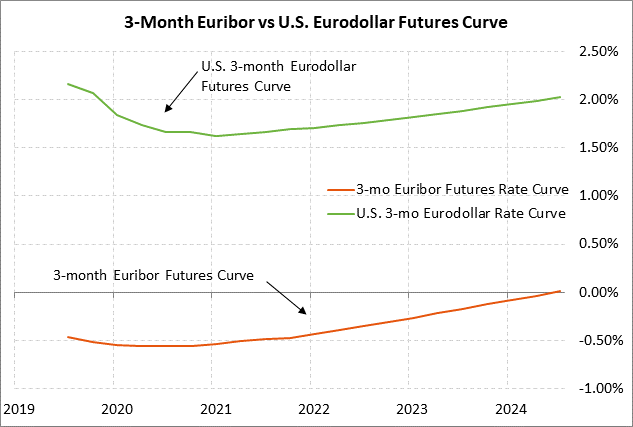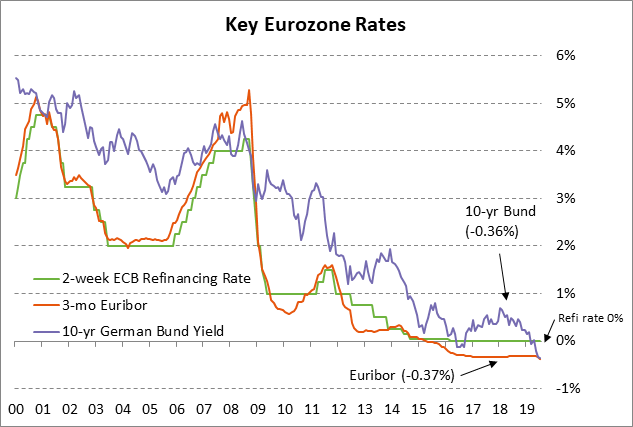 House passes budget and debt limit bill — The House late Thursday afternoon approved the 2-year budget cap and debt ceiling deal that President Trump announced earlier this week. The House easily passed the bill by a vote of 284-149. The House on Thursday evening left for its August recess, a day earlier than originally scheduled, and will not return until September 9. The Senate is not leaving for its recess until next Friday and is expected to approve the budget/debt limit deal next week. The deal suspends the debt ceiling until July 31, 2021, which would give the markets a 2-year reprieve from worrying about a Treasury default.

U.S. GDP expected to fall back to long-term potential — The consensus is for today's Q2 GDP report to fall to +1.8% (q/q annualized) from Q1's +3.1%, essentially matching the Fed's estimate of 1.9% for the long-term potential GDP rate for the U.S. economy. The U.S. economy can't be expected to grow in excess of its long-term potential GDP rate for long, but a lackluster GDP report is likely to spark some concern at the White House and could prompt new tweets by President Trump calling for the Fed to cut interest rates.

Today's GDP report is expected to show the good news that Q2 personal spending rose sharply by +4.0%. However, the overall GDP growth rate is expected to be dragged lower by GDP subtractions from the inventory and net export categories. Business investment is also expected to be weak.

Looking ahead, the consensus is for U.S. GDP to move sideways near +1.8% in the second half of this year and all through 2020. U.S. economic growth is expected to be lackluster due to the U.S. trade war and the dissipation of the stimulus seen in 2018 from the massive tax cut.