PREVIEWS AND PERSPECTIVES FOR FRIDAY, AUG 2
U.S. tariff policy is morphing into a disengagement policy — President Trump early Thursday afternoon announced that he will place a 10% tariff on another $300 billion of Chinese goods effective September 1, adding to the 25% tariff that is already on $250 billion of Chinese goods.

Mr. Trump gave China no chance to avert the new tariff since the new tariff is scheduled to take effect before the next high-level negotiating session is scheduled for early September. Mr. Trump said he expects the trade talks to continue, although China could respond to the new tariff by slowing or breaking off the talks altogether.

Mr. Trump's tariff move is not surprising since he is a proponent of maximalist pressure and is running out of time to get a deal before next year's campaign season. Mr. Trump on Thursday said he took the new tariff move because Chinese President Xi is not moving fast enough to negotiate a deal and buy U.S. farm products. Mr. Trump is ramping up the pain on China in an apparent attempt to get a trade deal before next year's campaign season when his political support may sag in the rural communities that have been hit hard by retaliatory tariffs.

Mr. Trump is clearly willing to further up the ante since he said that the 10% tariff is for the «short term,» which suggests that a hike to 25% could come soon. He also said Thursday that he might raise the penalty tariffs above 25%.

The problem for Mr. Trump is that his new 10% tariff may only confirm China's suspicion that there is no deal to be had with the U.S. and that China might as well wait until the November 2020 election to see if Mr. Trump gets reelected. China seems to be less interested by the day in a trade deal that to them is completely one-sided, particularly since the U.S. won't even agree to drop all of its tariffs on China after a deal is reached.

President Trump would undoubtedly like to get a trade deal signed so that he has some trade-war benefits to pitch in next year's campaign season. However, the Administration's tariff policy is slowly morphing into a disengagement policy where the U.S. and Chinese economies progressively disengage due to tariffs and blacklisting of key companies.

In a disengagement model, tariffs become an end in themselves as a means to block two-way trade and business between the two countries. Mr. Trump's most hawkish trade advisors seem to view a disengagement model as desirable. White House trade advisor Navarro said as recently as yesterday that «tariffs are good» and have «worked beautifully.»

The markets at this point must confront the growing chances that there could be maximum tariffs on US/Chinese trade at least until the end of Mr. Trump's first term in January 2021 and perhaps even beyond if Mr. Trump wins a second term.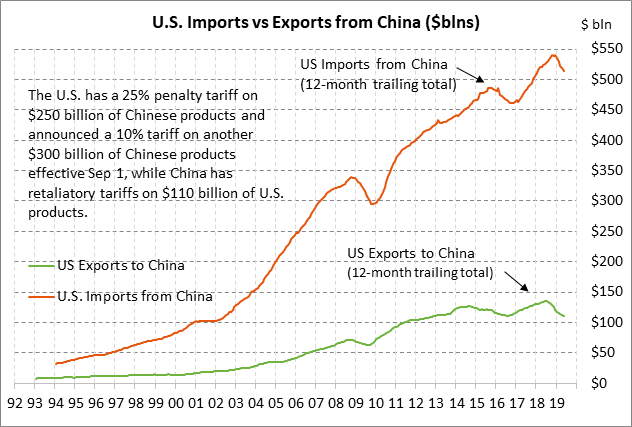 New tariffs spark 19 bp increase in Fed-easing expectations by 2020 — Thursday's sharp sell-off in the stock market on President Trump's tariff announcement was muted to some degree by the big increase in expectations for Fed easing. Specifically, the market on Thursday boosted expectations for Fed easing by 19 bp (i.e., a 3/4 cut) by the end of 2020. Thursday's move more than reversed the 7 bp tightening in Fed expectations that followed Wednesday's FOMC meeting when Fed Chair Powell called the rate cut a «mid-cycle adjustment.»

The market is now expecting a total of -39.5 bp of further easing (i.e., 1.6 more rate cuts) from the current IOER rate of 2.10% by the end of 2019 and another -42 bp of rate cuts (1.7 cuts) in 2020, for a total of 3.3 more rate cuts in 2019-20.

Senate approves debt ceiling suspension and averts debt ceiling crisis — The Senate Thursday afternoon, before leaving for its August recess, approved the 2-year budget cap and debt ceiling suspension that the House approved last week. After Mr. Trump's expected signature of the bill, the markets will not have to worry about the debt ceiling and a possible Treasury default for 2 years until July 2021 when the suspension expires, which will be six months into the next presidential term. Congress will now be on recess until September 9, which should reduce the amount of market-moving news coming out of Washington.

U.S. payrolls expected to be below trend — Today's payroll report is being released into a market that is now less optimistic about the U.S. economic outlook after Thursday's step-up in the US/Chinese trade war. The markets, therefore, may be more sensitive than usual if today's payroll report is weaker than expected.

The consensus is for today's July non-farm payroll report to show an increase of +165,000, which would be below the 12-month trend increase of +192,000. The market is still nervous about the employment outlook after payrolls rose by only +72,000 in May and then by +224,000 in June, producing a weak 2-month average of +148,000. Today's July unemployment rate is expected to be unchanged from June's 3.7%, which would leave the series just 0.1 point above April's 49-year low of 3.6%. July average hourly earnings are expected to be unchanged from June's +3.1% y/y, which would be only 0.3 points below Feb's 10-year high of +3.4% y/y.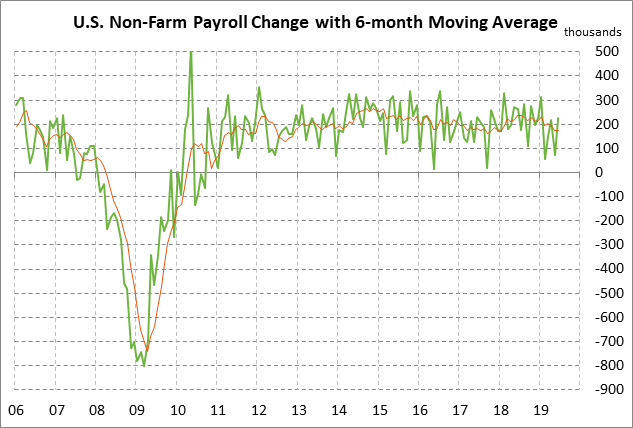 Other U.S. reports today — In other U.S. economic data on tap for today, the consensus is for (1) the June trade deficit to narrow to -$54.6 billion from May's -$55.5 billion, (2) June factory orders to rise +0.7% m/m following May's -0.7% and +0.1% ex-transportation, and (3) the final-July University of Michigan U.S. consumer sentiment to increase +0.1 to 98.5 after the preliminary-July report of +0.2 to 98.4.