CRUDE OIL REAFFIRMS BEARISH COUNT, DEFINES NEW RISK LEVELS
Exactly like yesterday's weakness in diesel and RBOB discussed, crude's break yesterday afternoon and overnight below last Thur's 53.59 low reaffirms the developing downtrend and our broader peak/reversal count from 11-Jul's 60.94 high introduced. This resumed weakness leaves smaller- and larger-degree corrective highs in its wake at 56.05 and 58.82, respectively, from which a still-advised bearish policy and exposure can be objectively rebased and managed.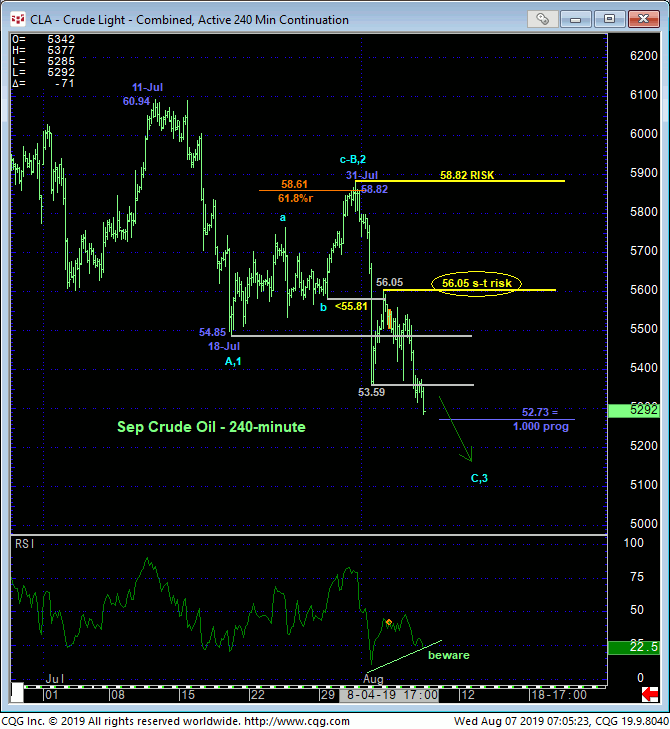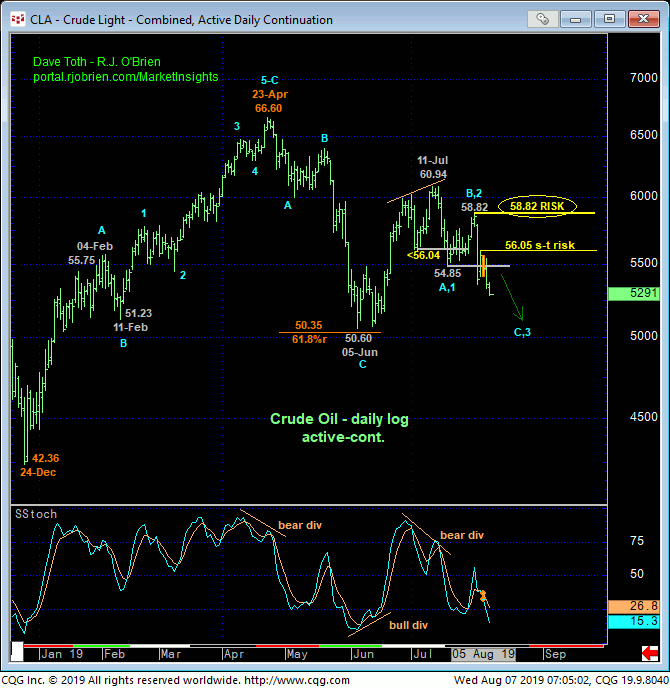 The past month's rollover that counters Jun-Jul's rally from 50.60 to 60.94 is clear in the daily log chart above. What's indeterminable at this juncture is what move is correcting what. «thus far», the decline from 11-Jul's 60.94 high is only a 3-wave structure that may only be a correction of Jun-Jul's uptrend that will eventually resume. HOWEVER, specific and objective strength above at least 56.05 and especially 58.82 is required to confirm this ultimately bullish count. Until and unless such strength is shown, the decline from 31-Jul's 58.82 high could just as easily be the 3rd-Wave of an eventual 5-wave sequence down to levels well below 05-Jun's 50.60 low. Always biasing towards a wave count consistent WITH the trend at hand, this bearish count is the one we favor currently.
On a broader weekly scale below, the market remains imprisoned deep within the middle-half bowels of the past year's range, so we don't want to ignore the prospects for further aimless whipsaw risk typical of such range-center conditions. Herein lies the importance of identifying tighter but objective risk parameters like 58.92 and even 56.05. But again, until and unless such strength is shown, there's no way to know the current decline isn't a 3rd-wave ahead of further and possibly accelerated losses straight away.
In sum, a bearish policy and exposure remain advised with a recovery above at least 56.05 and preferably 58.82 required to pare or neutralize bearish exposure commensurate with one's personal risk profile. In lieu of such strength, further and possibly accelerated losses remain expected straight away.